For this week's Top Ten Tuesday hosted by The Broke and The Bookish, I'll be posting it from Tokyo, Japan! I'm actually on vacation at the moment, just for a few days…so I won't be designing any special graphics for this post. For this week's topic we have "Top Ten Book To Movie Adaptations I'm Looking Forward To or Ten Book To Movie Adaptations I Still Need To Watch", once again I don't think I have 10 but lets just go with the few I am looking forward to watching 😀
Here is my list in no particular order:
Pride and Prejudice and Zombies – Seth Grahame-Smith
I'm not actually a fan of zombies…be it zombie movies or zombie games or zombie books, they're just NOT my favorite monsters, but I'm not sure why I'm looking forward to this movie. Perhaps its because its a rewrite of Pride and Prejudice? I'm not sure. I've actually NOT read the book, I've been meaning to and I want to, but, well we all know about that darn growing pile called a TBR list. I'll also own up to it, but I've also not gotten my hands on a copy YET; that shall be remedied. I guess I should make more of an effort to read the book before the movie gets released, I heard its suppose to come out in 2016, I better make an effort to start reading the book.
I'd prolly watch anything this man puts out! This is another one of those books/graphic novels which I need to read before the movie is released. It seems I have one too many books in my TBR list which needs clearing out. Although, I'll probably watch this even if I've not read it, just because I do not think I could stop myself from watching it 😀 My interest in the movie is mostly because of the author!
The Graveyard Book – Neil Gaiman
I guess I don't have to explain this one 😀 Same reason as why I want to watch The Sandman, its NEIL GAIMAN! Enuf' said 😀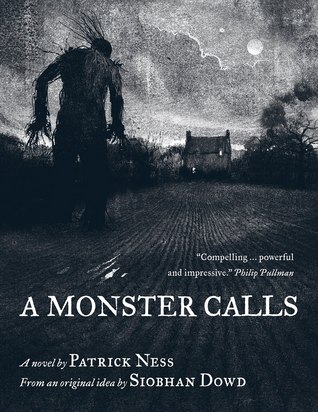 A Monster Calls – Patrick Ness
I'm presently reading this at the moment, and it makes me excited to know there is a movie adaptation on its way 😀
Fantastic Beasts and Where to Find Them – JK Rowling
Daughter of Smoke and Bone – Laini Taylor