Since I am going through a reading slump and am unable to read without frustrating myself I decided I should sit and try to write a review on this brilliant work; both the story and the illustration were absolutely breathtaking.
It's taken me awhile before finally settling down to write a review for this amazing read, despite the fact I'd finished it last month. I just needed some time to put together my thoughts and emotions in order to do justice to this wonderful work! I still don't feel I'm ready but I don't think I should put it off for too long. So all I can do at this point is to do my best to put together something comprehensive.
I had read the illustrated version of the book – illustrations done by the amazing Jim Kay – and it was just a wonderful experience. I really can't imagine reading the book any other way after having read his particular edition.
Summary from Goodreads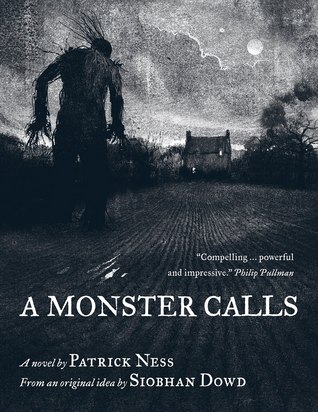 The monster showed up after midnight. As they do.
But it isn't the monster Conor's been expecting. He's been expecting the one from his nightmare, the one he's had nearly every night since his mother started her treatments, the one with the darkness and the wind and the screaming…
This monster is something different, though. Something ancient, something wild. And it wants the most dangerous thing of all from Conor.
So, let me start with my feelings about this book. If I actually did ratings/rankings I would say this is 5 stars, A+, 100%, and all other brilliant ratings. It was just off the scale amazing for me.
Why was it such an amazing experience for me? This was my first exposure to Patrick Ness' work, and it definitely was a very good introduction to his writing. I was hooked to every line he wrote and could not stop reading. As I read I was just highlight passages and sentences – line after line. The illustrations only help to highlight the grittiness and the emotions within the story in a positive way and in no way distracted, it all came together very well and the reading progress was incredibly fluid.
Though the book features a monster, it did not feel fantastical to me, the context of the book was quite grounded to our reality. In many ways, I felt as though the book was speaking to me; trying to teach me something without getting all high and mighty…without being preachy. Instead it just felt like a conversation between a very honest friend and I, who was giving me different perspective in viewing the world. It really was beautifully done.
The story had managed to draw out emotions from me I didn't think I would feel. Through the reading process I found myself wanting to just hug Conor, try to take away all his frustration, confusion and pain. To tell him you're not alone…someone is here for you! While I have not lost any immediate family to an illness nor taken care of anyone who had really bad health, my own uncle had passed away from cancer when I was a child. I was there to see how his fight with the disease affected his children, who at the time, were around the same age as Conor was in the book. I can only imagine how different things could have been if they had access to this book during that period of their lives; to know they weren't alone, and that it was alright to feel scared, to be angry, that they were allowed to have moments of weaknesses.
Although this book is labeled as a Middle-Grade fiction, it really is a book for people of all ages. It was complex and real…it really shows you that the world isn't just in black and white, good and evil, heroes and villains, but really its all just shades of grey in various degrees. It was just a wonderful read despite the fact I was biting my lip and holding back from crying but still ended up spilling buckets and buckets of tears. I sure my review did not manage to do justice to the amazingness which is this book, but I did my best…in my own jumbled up manner 🙂
Would I recommend this book? YES! YES! YES! A million times YES! I believe it is a literature piece everyone should read. I would like to thank Chachic for introducing me to this wonderful book, if she had not brought it to my attention (and having given me a copy of the book) I would probably have missed out on this wonderful reading experience.
If you've read the book do drop me a line, so we can squeal about it together. If you've not read the book, I highly recommend you pick up a copy as soon as possible! If you need more convincing, drop me a line 😉 I'll do my best to convince you to get a copy of this wonderful book! Looking forward to hearing from y'all! 🙂
The image I used in my banner was illustrated by Jim Kay, it is an actual illustration from the book. I decided there was no reason to look for an alternative image when the original illustrations were so beautifully done 😀