I learned about Noelle Stevenson after I'd fallen in love with the cover of Fangirl (I'll find time to do a review on that sometime), which she illustrated. When I learned she was coming out with her own graphic novel it was on my TBR list 😀 
I did not know that there was a webcomic, and since I didn't read that version, everything printed was new to me. So, I'm pretty excited to be writing this review! Let's get started!
Summary from Goodreads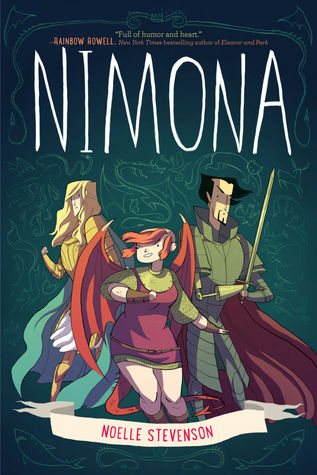 The graphic novel debut from rising star Noelle Stevenson, based on her beloved and critically acclaimed web comic, which Slate awarded its Cartoonist Studio Prize, calling it "a deadpan epic."
Nemeses! Dragons! Science! Symbolism! All these and more await in this brilliantly subversive, sharply irreverent epic from Noelle Stevenson. Featuring an exclusive epilogue not seen in the web comic, along with bonus conceptual sketches and revised pages throughout, this gorgeous full-color graphic novel is perfect for the legions of fans of the web comic and is sure to win Noelle many new ones.
Nimona is an impulsive young shapeshifter with a knack for villainy. Lord Ballister Blackheart is a villain with a vendetta. As sidekick and supervillain, Nimona and Lord Blackheart are about to wreak some serious havoc. Their mission: prove to the kingdom that Sir Ambrosius Goldenloin and his buddies at the Institution of Law Enforcement and Heroics aren't the heroes everyone thinks they are.
But as small acts of mischief escalate into a vicious battle, Lord Blackheart realizes that Nimona's powers are as murky and mysterious as her past. And her unpredictable wild side might be more dangerous than he is willing to admit.
Lemme start by gushing about the cover! I do very much love Noelle's artwork! So when Chachic informed me that she was gonna pass on her hardcover version to me I was in a tizzy!  And lemme say I love it! The whole look and feel of it…I love it so much I don't even know how to express it that I feel a little silly 😛
I read this while I was curled up in bed in pain from gastritis…I was also suffering from some pretty bad reading slump. Yet I'd managed to finish this book in one sitting! I was surprised it kept my attention. I started off with the first page and was just enchanted by the characters and I kept going. The story starts off as light-hearted and humorous, but it does get deeper and darker. Even then it manages to keep its humor and the plot gets better. It was definitely touching, there were scenes where I was going "awwwwww" as I read.
It all starts off simple as a villain vs hero story, but Noelle gives all her characters backstories which leads to a much deeper understanding of each characters' motive- which made for an interesting story and a wonderful read experience.
I really like Nimona's character, she wasn't perfect and had her flaws. She was spunky and had such high energy I wish I had. She didn't hesitate to use violence and despite the fact killing is wrong, the girl sure was blood-thirsty, yet she had her vulnerable side. She was the complete opposite of Ballister Blackheart who was this grumpy paranoid science loving nerd, with morality I've never seen in a villain before, he was definitely adorable. Finally, there was Ambrosius Goldenloin…just his name cracks me up; he is everything the typical comical goldenboy is suppose to be, a little klutzy, righteous (or he attempts to be), naive…and he has GLAMOROUS HAIR! Let's just say I was completely amused and thats all we really need sometimes.
I wouldn't say there wasn't any sad moments…there definitely were. I think I might have ALMOST shed a tear during the climax of the story. It was that sad.
Two Christmas special shorts were included in the printed version. One was about Nimona and Ballister spending Christmas together, and the other was when Ballister and Ambrosius were teens. The second one was my favorite one, it was such a heartwarming short, especially in the spirit of the upcoming Christmas season. I would totally recommend this as a Christmas read just for the extra short pieces at the end.
As Rainbow Rowell states on the cover, the story is definitely "full of humor and heart". I totally agree with her statement.
Would I recommend it? DEFINITELY! If you've not read it…go out and grab a copy! It's really such a refreshing read. If you're stuck and there are road blocks in your reading ability like mine, pick it up…let the pictures and words tell its story. Just enjoy it. It doesn't take a lot to understand and enjoy this work!
I'd decided to switch up my divider graphics to something more wintery due to the season 😀 As for the banner I saw no reason to use any other images aside from Noelle's own 😀 That was also one of my favorite scenes in the book…do look out for it! 😉