This was my first time reading Alice Clayton's work, it is also my first time participating in a buddy read! And it turned out quite fun to be sharing my thoughts with a group of people who were reading the same book 😀 It turned out to be a little difficult for me to keep to the pace, due to my reading slump…as well as some other personal situations going on. Yet, it was a really fun experience!

I'll probably write up another post on my experience buddy reading, but for now lets get on with the review.

Synopsis from Goodreads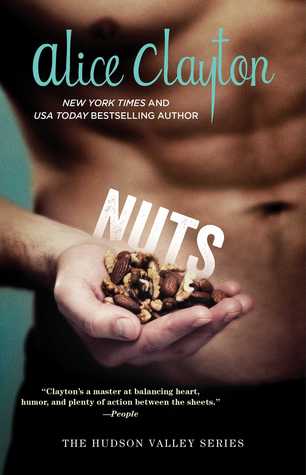 From New York Times bestselling author Alice Clayton, the first in a brand-new romance series telling the humorously sexy tale of Roxie, a private chef who gets a taste of love—but is it to stay, or to go?
After losing almost all of her clients in one fell swoop following an accident involving whipped cream, private chef to Hollywood's elite Roxie Callahan gets a call from her flighty mother, saying she's needed home in upstate New York to run the family diner. Once she's back in the Hudson Valley, local organic farmer Leo delivers Roxie a lovely bunch of walnuts, and soon sparks—and clothing—begin to fly. Leo believes that everything worth doing is worth doing slowly…and how! But will Roxie stay upstate, or will the lure of West Coast redemption tempt her back to Tinseltown?
So what did I think of the book?
I really enjoyed the food puns, the wittiness in the writing style and I did love Chad and Logan's characters. There was something in Clayton's writing that made it bearable, you could almost see the amazingness of it, but in the end the book still fell short for me. Although, I did not DNF it; I did not enjoy Roxie as a character, and because the book was completely narrated by Roxie, it just wasn't as relatable or enjoyable.
"You start talking to yourself out there in Hollywood?"
This is probably the best description of the book's voice, and I've probably quoted it on twitter and goodread while updating my reading status. We were just in Roxie's conscious for too long, with too much internal conversations; that by the time I was 30% into the book I began to crave CONVERSATION! I didn't want to just be told what happened in an exchange between two people, but what the story needed was MORE REAL CONVO between two or more people. It was difficult to experience the whole thing through Roxie's point of view, when you couldn't really relate to her. I prefer to read stories where the style of writing was more showing, instead of telling your readers.
Sadly…I couldnt get a sense of Leo. His voice just did not shine (since we are in Roxie's head most of the time), and aside from being a hottie Farmer Boy which was supposedly all the rage, I couldn't muster up any additional interest, although he does get some pretty good lines when given the chance to interact with Roxie.
Another issue I had with the story was how dragged out it felt in order to set us up for the climax of the story. Sure, there were time skips in the story and we're told days have passed, but it  felt like I was reading and reading but nothing was happening.  Then we get to Chapter 17 and 18, we get a small slice of action…then it gets a little dramatic and suddenly it was over. 16 chapters of wittiness but nothing exciting (aside from Chad and Logan), 2 chapters of slight excitement then we rush in for the finale – that was how I felt while I was reading.
As a whole the book was an okay read. The only thing which kept me reading were the gloriously entertaining conversations between the characters, they were really snappy and sassy, where I wished I could come up with some of these awesome retorts; the food puns, which were really entertaining; and (I think I've mentioned them quite often) Chad and Logan, despite their appearance being quite sparse.
I had actually given this book a 2 stars on Goodreads…which is pretty low…I was pretty torn between a 2 and 3, but in the end 2 won out. Would I recommend this to others? Honestly, I'm not sure…I'm pretty torn about this, I think its really about preference.  Would I read Alice Clayton's other works? I think I would be willing to give her another chance.
How about you? Have you read the book? If you had what did you think about it?
Because the couple met over a basket of  walnuts, I picked walnuts for the main image of my banner. I'd gone through a few images before picking this one by Krzysztof Puszczyński from stocksnap.io. In fact it goes well with the color scheme and my coffee icon 😀 So I'm pretty satisfied with the outcome.