I've been tagged quite a few times, and since I've not really blogged too much during this busy season (family obligations and all that jazz) I decided I'll do one of the latest ones I've been tagged with and move to the others 😀
Thank you to Reg from She Latitude for tagging me! 😀
The Rules
Thank the creator (thanks, Jordyn!) and the individual who tagged you
Begin with the month in which you have been tagged and move forward from there
State the best gift you've received after answering the prompt on your birthday month
Tag anyone
DECEMBER
"… is a time when friends and families come together and celebrate. Name one book you would give as a gift."
I rarely gift books…one of the reasons is because I'm always worried the person won't enjoy it or they've already got themselves a copy – not everyone uses Goodreads. In fact, I just recently started using Goodreads, and gotten into the habit of recording my books, I've still not gotten all of them listed in there…but I shall slowly but surely.
Although if I were to name one book to give as a gift, I'd probably gift them Nimona 😀 It's easy even for those who can't sit long enough to read a full book; it's an adventure for those seeking one; it's entertaining; and just all round wonderful 🙂 Plus I think for the giving season the book is perfect due to the extras at the end of the book which is Christmas themed.
JANUARY
"… begins a new year. Name a resolution you made this year and if you've kept it or not!"
Oh wow…actually I've not made one for this year. I think when the bells rang for new year THIS YEAR, 2015, I was sorta home resting from a particularly horrible cold 😦 What a way to ring in the new year. Although I had a gorgeous view of Tokyo Tower from my parents' apartment! It was definitely one of my favorite views! This picture was taken a few minutes before the clock struck 12 😀 We'll see if I will remember to make one THIS year 😉
FEBRUARY
"… is the month for relationships. Name your favourite book relationship: romantic, platonic, or familial, your choice!"
Ouch this one was a toughie! I actually really hate this cover, for it in NO WAY reflects the amazingness of this book. I really enjoyed the story. When I was reading it I just wanted to hug the characters and hit everyone who ever made it difficult for them to be together and to just be them!
It was an unexpected read for me…since the format it was written in was not to my normal preference. As I had written in my Goodreads review, I had…"blazed through this…it brought me out from my reading slump, brought tears, smiles and long drawn out "awwwww"s." Yeah at the time I was going through a reading slump and this book completely pulled me out of it.
MARCH
"… is the month for luck and new beginnings. Name a book/series you would like to re-experience as if you'd never read it."
I didn't really need to think too hard for this one. If I could experience it all over again the book/series I'd pick is obviously going to be HARRY POTTER! *squeal*
This one might be quite a cliche choice, but can you really blame me? I was thinking of Philip Pulman's Dark Materials series…but Harry Potter won hands down. There is something to be said about this magical world!
In fact, now that I have mentioned the series I think I might have to go marathon through all the movies again 😀
APRIL
"… is a spectacularly ordinary month. Name a book that was so over-hyped that it just could not live up to your expectations."
Okay…I don't really have anything at hand regarding this YET. I tend not to follow hypes, I avoid them like the plague…or I just ignore them. I try really hard not to be pulled into them. So I have nothing…in fact knowing a book has been so overly sensationalized by its fans make me a little wary and therefore I try not to have too much expectations before reading them.
Just to clarify, Harry Potter is a completely different category for me. I was always in love with the series from the start, so in I guess I have to admit that I took part in going all fangirl over it, therefore did not discover it through a frenzied hype 😛
MAY
"… is the month when the flowers start to bloom. Name a book that was a pleasant surprise to you."
Definitely Sarina Bowen's 'The Understatement of the Year'. Just like its title, the story was definitely an understatement…it surprised me in such a good way. I loved the characters and just loved it. Graham and Rikker are just absolute love! I think if I keep going on this track, I'd just go all rambling about how much I love them so I will just stop and recommend you to read the book 😀
May is the month of my birthday! *do a little dance* Hmmmm….what is the best gift of my life up to this point…honestly if I had to think this hard perhaps I've not yet received one. So instead I'll say the best gift I received for my birthday THIS year was the Alexander McQueen sunnies my sister got me 😀
JUNE
"… is the time to take a break. Name a book or genre that you like to read when you just need to check out."
For me it would definitely have to be graphic novels or mangas – actually I think I normally read manga when I need a break from EVERYTHING. I love beautifully illustrated work, its even better for me when they make up a story!
At the moment, I'm reading 「食戟のソマ」(Shokugeki no Soma) – Food Wars, written by Tsukuda Yuto and illustrated by Saeki Shun. The series is pretty hilarious and the cooking scenes and food makes me pretty hungry LOL!  The series is pretty long and I am still trying to catch up at the moment, but it makes for a pretty good distraction while I'm on my reading slump.
JULY
"… is the time to celebrate your independence! Name a book that made you see fireworks."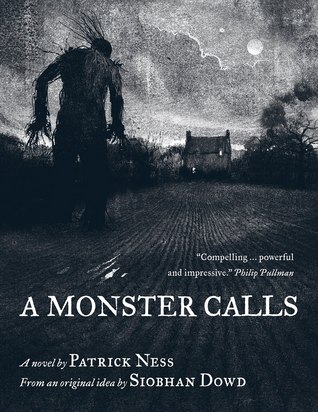 Fireworks…I'm gonna have to pick Patrick Ness's A Monster Calls, the illustrated version by Jim Kay. I loved it. The story just exploded in my chest…and instead of stars I just saw tears. I cried my heart and eyes out. It was just a seriously amazing experience reading it.
The book was sad…and I guess it exploded its own fireworks in its own way for me. It definitely was an amazing read. After reading the story with the illustration, I don't think I know how to experience this book any other way. It was just perfect.
AUGUST
"… is the hottest month of the year. Pick an up-and-coming author that you think will be the next hottest thing."
Hmmm…honestly I'm not sure 😛 This is a really tough questions.
I'm thinking and I have NOTHING on my mind…sorry people…I'm just gonna have to take a past on the month of August.
SEPTEMBER
"… is time for students to go back to school! Pick a book you read for school that you actually enjoyed."
I'm unsure if anyone has read this. I'd actually read this during AP English back in high school and it was actually incredibly entertaining 😀 It was one of the more interesting reads from that year.
It's about two minor characters from Shakespeare's Hamlet. I'm sure many has either watched/read Hamlet (mostly because its required reading for school), but I doubt they actually remember who Rosencrantz and Guildenstern were. This play definitely highlighted them to me, and until today I still remember their names with fond memories.
OCTOBER
"… is time to celebrate Halloween! Pick one character that you would love to dress up as."
I might not be in love with Leigh Bardugo's Grisha series (I've only finished the first book, Shadow and Bone) but I love the idea of the kefta and would really love to dress up as a Grisha.
After I saw her inspiration pinterest for the design of the kefta uniforms in her books I was in love with the concept!
I'd love to dress up as a  Corporalki, since their uniforms are red (which is one of my favorite color) and while I'm not particularly blood thirsty, I have to say their ability is a lot more interesting than a Etherealki and Materialki. One could always pick to be a Healer instead of a Heartrenders 😛
NOVEMBER
"… is the month when we're reminded of how much we have to be thankful for. Choose one book you're grateful for having read and give a shout-out to the person who recommended it!"
I donno if I can pick one book, but I am grateful to my parents for always enabling my reading addiction, they're the ones who bought all my books, driven me to the libraries when I was too young to do so, they even bought me my first Kindle when I had begun moving countries too often and almost had a breakdown when I had to sell my books. So I'm just eternally grateful to them!
Tagging: