I didn't expect to post this on the 1st of February, I had intended for it for the end of January, but I guess it just took me that long to design the banner and write up the review 😀 I had discovered this book while browsing through Kinokuniya during one of my lunch breaks. I was reminded of it again when I was working on my TTT post for Top Ten Books I've Recently Added To My TBR. Since I was going through my reading slump I decided to go for some non-fiction, for a change. 
Synopsis from Goodreads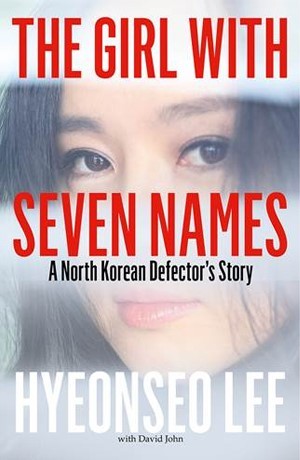 An extraordinary insight into life under one of the world's most ruthless and secretive dictatorships – and the story of one woman's terrifying struggle to avoid capture/repatriation and guide her family to freedom.
As a child growing up in North Korea, Hyeonseo Lee was one of millions trapped by a secretive and brutal communist regime. Her home on the border with China gave her some exposure to the world beyond the confines of the Hermit Kingdom and, as the famine of the 1990s struck, she began to wonder, question and to realise that she had been brainwashed her entire life. Given the repression, poverty and starvation she witnessed surely her country could not be, as she had been told "the best on the planet"?
Aged seventeen, she decided to escape North Korea. She could not have imagined that it would be twelve years before she was reunited with her family.
She could not return, since rumours of her escape were spreading, and she and her family could incur the punishments of the government authorities – involving imprisonment, torture, and possible public execution. Hyeonseo instead remained in China and rapidly learned Chinese in an effort to adapt and survive. Twelve years and two lifetimes later, she would return to the North Korean border in a daring mission to spirit her mother and brother to South Korea, on one of the most arduous, costly and dangerous journeys imaginable.
This is the unique story not only of Hyeonseo's escape from the darkness into the light, but also of her coming of age, education and the resolve she found to rebuild her life – not once, but twice – first in China, then in South Korea. Strong, brave and eloquent, this memoir is a triumph of her remarkable spirit.
Since this isn't a fiction piece, I'm not really gonna comment on the storyline or characters, since its all based upon real experiences; I'm just gonna stick to my impression of the book.
This story differs from most defector stories, because, the narrator, Hyeonseo Lee did not have any intention of defecting, unlike what the description from Goodread states. Hyeonseo came from a comfortable well to do family in North Korea, she had a dream of going to university and becoming a musician in her great country. She was in no way "escaping" the regime due to the difficult times; rather it was due to curiosity as a teenager where she makes a wrong decision and ends up leaving her family, and was unable to return.
"Leaving North Korea is not like leaving any other country. It is more like leaving another universe. I will never truly be free of its gravity, no matter how far I journey."
She takes us through her childhood which she grew up quite happily, within a loving family. She never felt that the teachings and the propaganda of North Korea about their leaders to be anything but the absolute truth. Reading about the education and their culture and tradition sickened me a little, little children were taught to spy on each other, from a young age making it difficult to trust anyone.
They held self-criticism sessions called 'life purification time' which starts at elementary school, where they're to confess to something they've done and/or accuse another for something (it doesn't matter if its real or made up); as Hyeonseo puts it:
"No one was excused for shyness. No one was allowed to be blameless […] These sessions could create an atmosphere of great fear and bitterness, even among children."
An education system which brainwashes them against anything which is negative against their leader and the regime. Where North Korea is absolute, and any country supporting Communism are allies, where as any other system are evil and failing. It became the kind of country where the act of kindness was rare, for self preservation.
"One of the tragedies of North Korea is that everyone wears a mask, which they let slip at their peril."
The most interesting portion of the book, for me, was the first half where she talks about the culture and the education in North Korea. The difficulties of defectors trying to integrated into the free world, and the challenge of trying to discover their own identity after ripping themselves from the ones they were born into.
This was definitely a good read, and a good change of reading pace for me. One had to admire Hyeonseo's for her bravery to keep moving forward, for her strength to push through, and her ability to admit her flaws and learn from her mistakes. Sure there were times as a reader we could wonder why she would make such decisions, but as a young girl in the world where you were running and hiding; fearful and unable to trust anyone, it would be difficult to remain rational all the time. There are times where desperation would put you in a place where you felt you had no choices at all; and I felt Hyeonseo managed them all as best as she could with the resources she had.
Would I recommend this book? Yes I would. It is definitely an interesting read, very different in that it didn't only focus on the horrors of North Korea, the readers are given a glimpse of what life was like for the "middle" to "upper" class of North Koreans, those born into families which did not have to suffer through concentration camps nor put through horrifying punishments. Those who just lived life as peacefully as they could under the iron rule of the Kim family. It was definitely an eye opening read for me.
Have you read the book? If you did what did you think of it? If you've not, would you be interested and why? Do share your thoughts! 😀
The banner above was designed using the photograph taken by Jeffrey Tang for the article written by Maxwell Williams for The Daily Good article. I thought it was a beautiful picture taken of Hyeonseo Lee 🙂