It's the first day of March! A completely new month has arrived! It's time for one of my favorite posts, hosted by The Broke and Bookish! This week's topic is "Ten Books To Read If You Are In The Mood For X". I've decided to go with, "10 Books to Read if You're In The Mood For a Competitive Manga"; I've recently joined a Graphic Novel/Manga Challenge also been reading quite a bit of sports/game-themed manga, so I decided to go for manga with a competitive streak.
I've not posted a TTT in awhile now; it was either because I was unable to come up with a list of books or unable to come up with something interesting. I wasn't completely sure I wanted to do today's topic…I never feel credible enough to suggest to others what to read…therefore topics on what I like to read or prefer to read are easier to work on. I decided to take this challenge anyways. Hope you'll like my 10 picks!
Kuroko no Basket – Fujimaki Tadatoshi
Type of Sport: Basketball
Storyline: "The basketball team of Teikō Middle School rose to distinction by demolishing all competition. The regulars of the team became known as the "Generation of Miracles". After graduating from middle school, these five stars went to different high schools with top basketball teams. However, a fact few know is that there was another player in the "Generation of Miracles": a phantom sixth man. This mysterious player is now a freshman at Seirin High, a new school with a powerful, if little-known, team. Now, Tetsuya Kuroko – "the sixth member of the "Generation of Miracles", and Taiga Kagami – a naturally talented player who spent most of middle school in the US, aim to bring Seirin to the top of Japan and begin taking on Kuroko's former teammates one by one. The series chronicles Seirin's rise to become Japan's number one high school team." – Wikipedia.
I tend to like underdog teams…I've finished the series not too long ago as well as the anime. I really love Kuroko's character, he's not the typical type character where they dunk amazingly well or is a genius. Sure he has his strength and is probably the only guy who could utilize it, but he has his growth limit and has to over come his own wall. The story can get a little unrealistic, especially when it comes to their abilities, especially for high schoolers. It is still a fun read with fun characters, with a strong passion for basketball.
Slam Dunk – Inoue Takehiko
Type of Sport: Basketball
Storyline: "Hanamichi Sakuragi is a delinquent and the leader of a gang. Sakuragi is very unpopular with girls, having been rejected an astonishing fifty times. In his first year at Shohoku High School, he meets Haruko Akagi, the girl of his dreams, and is overjoyed when she is not repulsed or scared of him like all the other girls he has asked out.
Haruko, recognizing Sakuragi's athleticism, introduces him to the Shohoku basketball team. Sakuragi is reluctant to join the team at first, as he has no prior experience in sports and thinks that basketball is a game for losers (in addition to the fact that the fiftieth girl rejected him in favor of a basketball player). Sakuragi, despite his extreme immaturity and fiery temper, proves to be a natural athlete and joins the team, mainly in the hopes of impressing and getting closer to Haruko. Later on, Sakuragi realizes that he has come to actually love the sport, despite having previously played primarily because of his crush on Haruko." – Wikipedia
This is a classic! Many manga/anime fans would highly recommend reading Slam Dunk, especially if you're interested in Sports-themed manga. I highly recommend it too! One can't make a list of sport-themed manga without including Slam Dunk!
Dear Boys – Yagami Hiroki
Type of Sport: Basketball
Storyline: "At the outset of the manga, the Mizuho High School basketball team is in trouble, as there are not enough players to play a game. Additionally, the coach has left after a conflict with Fujiwara. However, Aikawa transfers to Mizuho and through his enthusiasm and sheer love of the game, infuses the few remaining members with a sense of purpose.
Despite the fact that there are only five of them (i.e., they have no substitutes), they manage to get the coach of the girls' team to coach them as well. At first, she seems very strict, but later reveals her attachment to her "Dear Boys". Together, they do their best to make their dreams come true and take their team to the top of the prefecture.
The manga isn't only focused on the Mizuho team, but also on several rival teams. In fact, the manga artist spends a bit of time developing the characters of other teams' members." – Wikipedia
This was the second basketball manga I read after Slam Dunk, the art was a little different…in fact the art in the manga started out pretty bad, but as it progressed the art got better. It was really interesting to follow. I never really finished the series, and had only managed to finish Act 1 and a little of Act 2. There are still 2 more seasons to the series, Act 2 which is complete; and Act 3 which is still on-going.
Haikyuu! – Furudate Haruichi
Type of Sport: Volleyball
Storyline: "Junior high school student Shōyō Hinata gains a sudden love of volleyball after seeing a national championship match on TV. Although short in height, he becomes determined to follow in the footsteps of the championship's star player, nicknamed the "Little Giant", after seeing his plays. He creates a volleyball club and begins practicing by himself. Eventually 3 other members join the team by his last year of middle school, pushing Hinata to persuade his two friends who are in different clubs to join just for the tournament. However, they are defeated in their first tournament game after being challenged by the championship favorite team, which includes the so-called "King of the Court" Tobio Kageyama, in the first round. Though Hinata's team suffers a miserable defeat, he vows to eventually surpass Kageyama and defeat him. Fast-forward to highschool, Hinata enters Karasuno Highschool with the hopes of joining their volleyball club. Unfortunately for him, the very person he swore to surpass appears before him as one of his new teammates." – Wikipedia
I've actually done a review on the first four volume of this manga. I'm still getting through this series, and am having a lot of fun learning about volleyball. I never knew what a complicated game it was. Especially seeing how I've mostly only watched basketball, football and tennis. This is a good change of sport for me. The characters are vibrant and the sport is pretty exciting!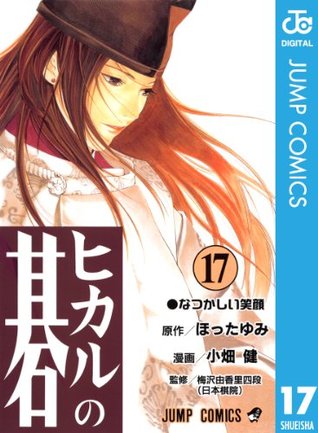 Hikaru no Go – Obata Takeshi
Type of Sport: Go (Japanese Othello)
Storyline: "While exploring his grandfather's shed, Hikaru stumbles across a Go board haunted by the spirit of Fujiwara-no-Sai, a Go player from the Heian era. Sai wishes to play Go again, having not been able to since the late Edo period, when his ghost appeared to Honinbo Shusaku, a top Go player of that period. Sai's greatest desire is to attain the Kami no Itte (神の一手?, "Divine Move") – a perfect move. Because Hikaru is apparently the only person who can perceive him, Sai inhabits a part of Hikaru's mind as a separate personality, coexisting, although not always comfortably, with the young boy." – Wikipedia
While this isn't technically a sport, and is a board game, it is still quite competitive. One wouldn't think Go would be any fun to read about, but it was a really good read for me! I remember enjoying the series very much. I read this back when I was in high school, and it really changed my opinion on the game. Plus I really enjoy the relationship between Sai and Hikaru…they really grow on you; and Sai is really beautifully drawn.
Shokugeki no Soma – Tsukuda Yuto; Saeki Shun (Illustrator)
Type of Sport: Cooking
Storyline: "Shokugeki no Soma tells the story of a boy named Sōma Yukihira, whose dream is to become a full-time chef in his father's neighborhood restaurant and surpass his father's culinary skills. But just as Sōma graduates from middle school, his father, Jōichirō Yukihira, gets a new job that requires him to travel around the world and closes his shop. However, Sōma's fighting spirit is rekindled by a challenge from Jōichirō which is to survive in an elite culinary school where only 10% of the students manage to graduate, where he meets many amazing students and experiences new events that allow him to grow further towards his goal." – Wikipedia
This is also another non-traditional sport, but I'm sure we're all quite familiar with cooking competitions, Shokugeki no Soma is actually all about culinary competition. I love food…my instagram is filled either with pictures of books, my travels and of course FOOD! So I took quite well to the manga, I love the element of food and how everything revolves around how food is made, the importance of the ingredients and the cooking methods. If you love food and comedy, this would make a really good read! The series is actually still on-going.
Yowamushi Pedal – Watanabe Wataru
Type of Sport: Cycling; Road Racing
Storyline: "Sakamichi Onoda is an otaku who has just entered high school. In middle school, Onoda did not have any friends with whom he could talk about his interests, and hopes to change that by joining his new school's anime club. However, he is crushed when he discovers the anime club has been disbanded due to lack of interest, and in order to reestablish the club, four new members must join." – Wikipedia
I've never really been into Tour de France or cycling, but as I mentioned above I love the idea of a underdog going against the odds. Sakamichi Onoda's character is pretty adorable, he is just this anime loving boy who has a talent for biking, and has unknowingly trained himself to cycle due to his altered bike from Chiba all the way to Akihabara (to those who have been to Japan or knows its geography, you'd know this is a RIDICULOUS DISTANCE!), but this boy does it almost every week! I like how the story shows even with talent, you still need hard work and practice to achieve what you want. It's quite motivating.
Initial D – Shigeno Shuichi
Type of Sport: Car Racing;
Storyline: "The protagonist, Takumi Fujiwara, is a gas station attendant working with his friend Itsuki to buy a car, which they plan to drift on the twisting roads surrounding nearby Mount Akina. Unbeknownst to his colleagues, Takumi moonlights as a tofu delivery driver for his father's store before sunrise each morning, passively building an impressive amount of skill behind the wheel of the family car, an aging Toyota Sprinter Trueno." – Wikipedia
The art to this series is actually not that great…the character designs are completely NOT to my taste. But it was definitely something new, seeing that its about illegal downhill and uphill racing with some pretty amazing sport cars. To be honest, the anime is a lot more interesting than the manga, especially the racing sequences and the upbeat music.
Yakitate!! Japan – Hashiguchi Takashi
Type of Sport: Cooking; Baking
Storyline: "The story focuses on Kazuma Azuma, a boy on his quest to create "Ja-pan", a national bread for Japan itself. He initially heads to Tokyo to expand his horizons at the bread-making chain Pantasia; the story continues with Azuma's exploits with his other coworkers.
Besides the desire to create his Ja-pan, Azuma also possesses the legendary Solar Hands (太陽の手 taiyō no tedough to ferment faster. This gives him some advantage at the beginning of the series, but his innovation is his greater talent.). These hands are warmer than normal human hand temperature, and allow the
Although the story has baking as its main theme, the parts that raise the most interest are the outrageous puns in the story. Especially notable are the "reaction" based puns made by the judges, who go to great lengths to prove a single point about the bread that they had tasted."
Another food related battle! I read this before Shokugeki no Soma, and it is in fact this series which encouraged me to pick up Shokugeki no Soma. I love Azuma's passion to create a national bread, his talent didn't come from nothing, he has experimented endlessly and has his own logic when he bakes. I also love how the recipes in this series are actually replicate-able…they actually provide recipes to his baked goods.
Chihayafuru – Suetsugu Yuki
Type of Sport: Karuta (Japanese Cards)
Storyline: "Chihaya Ayase is a girl who has spent most of her life simply supporting her sister in her model career. That changes when she meets a boy named Arata Wataya, a talented karuta player. After becoming friends, he believes that Chihaya has potential to become a great player. As Chihaya takes on a new dream of becoming Japan's best karuta player, she is soon separated from her karuta playing friends as they grow up. Now in high school, Chihaya is reunited with her childhood friend, Taichi Mashima. Together, they form the Mizusawa Karuta Club. With her teammates and friends supporting her, Chihaya strives to become the best karuta player in the world and to one day be with Arata again." – Wikipedia
I have yet to read this series and have not much insight on it, it was recommended to me by a friend. I know it has a huge following and is quite popular. It would be something I'd be willing to read, despite it being a non-traditional competitive sport.
These are my 10 picks for competitive-themed manga! Have you read any of them? If you have what do you think of them? If you've not, which would you most likely pick up?