I had missed quite a few TTT this past few weeks, but I'm back!!! This week's topic is "Ten Books I Really Love But Feel Like I Haven't Talked About Enough/In A While" this meme is hosted by the ladies at The Broke and The Bookish. I always find Tuesdays such a dangerous days for my TBR list…its when my TBR list suddenly GROWS longer exponentially as I discover more books which I feel a need to read thanks to all the lovely bloggers who participate in the meme.

For this week's topic I will be writing about Ten Books/Manga(s) I Really Love But Feel Like I Haven't Talked About Enough, in fact I will do a list of 5 books and 5 manga(s) which I enjoyed but haven't really talked about it enough and feel this need to promote them! So here we go!
Books

Author: Sarin Bowen
Genre: New Adult; LGBT; Sports Romance
My Favorite Characters: John Rikker & Michael Graham
Short Summary: Five years ago, Michael Graham betrayed the only person who ever really knew him. Since then, he's made an art of hiding his sexuality from everyone. Including himself. John Rikker is stuck being the new guy. Again. And it's worse than usual, because the media has latched onto the story of the only "out" player in Division One hockey. As the satellite trucks line the sidewalk outside the rink, his new teammates are not amused.
This was one of my favorite reads by Sarin Bowen, from her Ivy Years series. In fact it become one of my all time favorites. I had read the book before I started my blog and therefore haven't had the chance to rave about it's amazingness. Rikker and Graham are still one of my favorite couple, and I had an enjoyable time reading about their story, and growth. I would love to keep going on and on about how much I love it…I just feel this book deserves to be read by more people, so they can experience the joy of reading it the way I did!
Author: Yukio Mishima
Genre: Japanese Literature; Fiction; Classics; LGBT
My Favorite Characters: Kochan
Short Summary: Confessions of a Mask is the story of an adolescent who must learn to live with the painful fact that he is unlike other young men. Mishima's protagonist discovers that he is becoming a homosexual in polite, post-war Japan. To survive, he must live behind a mask of propriety.
This was actually required reading for my Japanese literature class, and it became one of my favorite books written by Mishima Yukio. In fact the character of Kochan is based loosely on his own childhood and experiences. I would recommend this to anyone who enjoys post-war Japan literature or anyone who is looking to study Japanese literature or Japanese culture. It's also one of the few books I would like to find some time to do a reread, its been years after all and I feel the need to refresh my memory.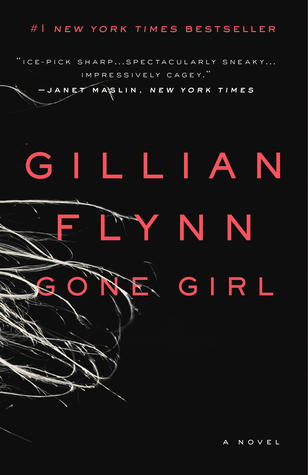 Author: Gillian Flynn
Genre: Suspense; Psychological Triller
My Favorite Characters: Amy Dunne
Short Summary: On a warm summer morning in North Carthage, Missouri, it is Nick and Amy Dunne's fifth wedding anniversary. Presents are being wrapped and reservations are being made when Nick's clever and beautiful wife disappears. Husband-of-the-Year Nick isn't doing himself any favors with cringe-worthy daydreams about the slope and shape of his wife's head, but passages from Amy's diary reveal the alpha-girl perfectionist could have put anyone dangerously on edge. Under mounting pressure from the police and the media—as well as Amy's fiercely doting parents—the town golden boy parades an endless series of lies, deceits, and inappropriate behavior. Nick is oddly evasive, and he's definitely bitter—but is he really a killer?
This was such an amazing read! I don't think I've talked about this one enough at all! I'm sure most people know about the movie, whereas do read the book! Although if you've not watched the movie, do read the book! The character are so well written, it was basically like watching a movie only in your head. This was my first book by Gillian Flynn and it had lead me to purchasing her other two books Sharp Object and Dark Places, although I've yet to read either.
Author: Jacob Grimm & Wilhelm Grimm
Genre: Fairy Tales; Classic Literature
My Favorite Characters: N/A
Short Summary: These are all short stories we mostly grew up reading, just some of them were the Disney versions. These are the ones edited and translated by Jack Zipes, an expert on children literature.
Whimsical of me, but I had also taken a class on the Brothers Grimm and owned this very copy. What encouraged me though was my own hardcopy version, which my parents had bought me when I was a child. Therefore from a young age I realized how very different the Disney version was from the original stories. But I don't think I've talked about how much I love fairy tales, and this is definitely one of the few books (despite its size) I feel everyone should read! Take some time and get in touch with your inner child…or not, for some of the stories can be quite violent and humor we might only realize as an adult. Trust me it is definitely refreshing to read as an adult. The version I owned as a child was the hardcover version by Chancellor Press in 1984, illustrated by E.H. Wehnert.
Author: Sir Arthur Conan Doyle
Genre: Mystery; Crime; Classic Literature
My Favorite Characters: Sherlock Holmes & John Watson
Short Summary: The adventures of London Edwardian private detective Sherlock Holmes and his side-kick Dr. John Watson.
I love Sherlock Holmes, so much I wanted to become a detective when I was a child. I don't think I've ever really voiced out how much, despite having started this blog. I feel it is a must read for anyone who loves the mystery and crime genre; it is definitely the gateway to enjoying the genre. It is another one of those books I feel the need to find some time to reread and reacquaint myself with – like a walk back down memory lane to a time in my life when all I had to think about was what I wanted to be when I grow up.
Manga(s)

Title: Tokyo Babylon
Mangaka: CLAMP
Genre: Supernatural; Shoujo
My Favorite Characters: Sumeragi Subaru & Sakurazuka Seiishiro
Short Summary: The series follows Subaru Sumeragi, the head of the Sumeragi clan, and his sister Hokuto as they work to protect Tokyo from a myriad of supernatural perils.
This was my all time favorite manga from CLAMP, and I seriously don't think I've gushed enough about this series at all! The art might be a little old school for some, this was after all published back in the 1991, even the technology and some of the landscape of Tokyo depicted in the manga is aged, but thats all good. CLAMP had still created two of my all time favorite manga characters and had allowed me some amazing memories reading! So do give it a try; at the moment there is a 3 in 1 volume of the manga translated into English, published by Dark Horse Manga. I do own all 7 volumes of the manga in Japanese, and absolutely love the covers!
Title: Yu Yu Hakusho
Mangaka: Togashi Yoshihiro
Genre: Supernatural; Shounen; Martial Arts
My Favorite Characters: Hiei, Kurama & Koenma
Short Summary: The series tells the story of Yusuke Urameshi, a teenage delinquent who is struck and killed by a car while attempting to save a child's life. After a number of tests presented to him by Koenma, the son of the ruler of the afterlife Underworld, Yusuke is revived and appointed the title of "Underworld Detective", with which he must investigate various cases involving demons and apparitions in the human world.
I love supernatural stories, especially Japanese supernatural folklore. It wouldn't be a surprise that I was drawn to this series! Especially since it does involve a little bit of mystery and a lot of action pack martial art, along with all sorts of supernatural beings! This series was one of the few which really got me obsessed with manga and anime. I would say this was the beginning of my interest. I also really love Togashi's work, which lead me read his next work Hunter x Hunter! Once again, the art is a little aged, but I loved it!
Title: Ooku – The Inner Chambers
Mangaka: Yoshinaga Fumi
Genre: Historical; Fiction; Josei
My Favorite Characters: N/A
Short Summary: In Edo period Japan, a strange new disease called the Red Pox has begun to prey on the country's men. Within eighty years of the first outbreak, the male population has fallen by seventy-five percent. Women have taken on all the roles traditionally granted to men, even that of the Shogun. The men, precious providers of life, are carefully protected. And the most beautiful of the men are sent to serve in the Shogun's Inner Chamber…
I really love the mangaka, and this story is just fantastic! I love the new take on history, on the "what if" women were in power! The roles of men and women had taken a turn in this story, I especially love that it was set in the historical period of Edo, one of the more complicated period in the Japanese history. The twist the mangaka had taken with this is refreshing. If you've not explored her work, do take a chance with Ooku.
Title: Fruits Basket
Mangaka: Takaya Tatsuki
Genre: Shoujo; Supernatural;
My Favorite Characters: Souma Momiji, Souma Shigure, Ayame Souma & etc…
Short Summary: A family with an ancient curse…
And the girl who will change their lives forever…
Tohru Honda was an orphan with no place to go until the mysterious Sohma family offered her a place to call home. Now her ordinary high school life is turned upside down as she's introduced to the Sohma's world of magical curses and family secrets.
I'm sure most manga readers know about Fruit Basket, but it is one of those manga I feel I've not expressed how much I love it enough times! It's also been awhile since I've mentioned it. I've also not read the series in a long time…it might be time to do a reread soon!
Title: Petshop of Horrors
Mangaka: Matsuri Akino
Genre: Shoujo; Supernatural
My Favorite Characters: Count D
Short Summary: A smoke-filled alley in Chinatown harbors Count D's Pet Shop. The pets sold here aren's your everyday variety and the Count prides himself on selling Love and Dreams in the form of magical creatures that come with an exclusive contract. But buyers beware. If the contract is broken the Count cannot be held accountable for whatever may happen. A fascinating and macabre look into the very soul of human nature.
When it comes to manga I have a love for the supernatural; I didn't intend there to be a theme in my list of manga(s), but it seems there is. Petshop of Horrors has some of the more beautiful art I've seen even till today. Once again, the art can be a little aged, but its still beautiful! The story is also really complex and insightful. If you've not read it, definitely do give this a try!
Have you read any of these books/manga(s)? If you have what did you think of them? If you've not, would any of them make it to your growing TBR list? Would definitely love to hear your thoughts!