This review for Him by Sarina Bowen and Elle Kennedy is a little late. I had read the book summer of last year, but had only recently just finished the second book to this series. As I was planning to write up a review for it, I realized I had not done one for this book. Therefore, before I start on my review for Us (Him #2) I decided I should put out my love for this one.
Because it's been sometime since I read the book, this review will probably be shorter than my regular ones. It doesn't mean I don't love it as much…in fact I loved it so much it is on my "All Time Favorites" shelf in my Goodreads.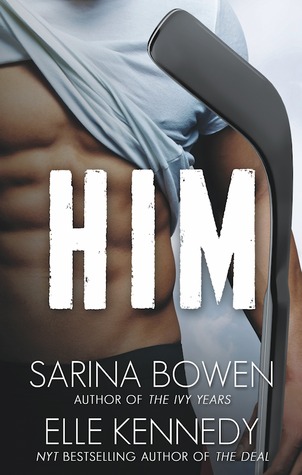 Genre: New Adult, M/M Romance, Contemporary Romance
Published Date: July 28th 2015
Publisher: Rennie Road Books
Synopsis:
They don't play for the same team. Or do they?
Jamie Canning has never been able to figure out how he lost his closest friend. Four years ago, his tattooed, wise-cracking, rule-breaking roommate cut him off without an explanation. So what if things got a little weird on the last night of hockey camp the summer they were eighteen? It was just a little drunken foolishness. Nobody died. 
Ryan Wesley's biggest regret is coaxing his very straight friend into a bet that pushed the boundaries of their relationship. Now, with their college teams set to face off at the national championship, he'll finally get a chance to apologize. But all it takes is one look at his longtime crush, and the ache is stronger than ever.
Jamie has waited a long time for answers, but walks away with only more questions—can one night of sex ruin a friendship? If not, how about six more weeks of it? When Wesley turns up to coach alongside Jamie for one more hot summer at camp, Jamie has a few things to discover about his old friend…and a big one to learn about himself.
Warning: contains sexual situations, skinnydipping, shenanigans in an SUV and proof that coming out to your family on social media is a dicey proposition.
The story is told alternating between the point of view of both characters, Jamie Canning and Ryan Wesley. It's a wonderful format, which gives you a more personal view of how both characters are handling the change in their relationship. When the book starts both Wes and Jamie has been estranged throughout most of their college careers, despite having been best friends during most of their teenage childhood. A friendship they had built during Hockey summer camp, 2 months out of the year and miles between them, they had managed to bond and considered each other to be best friends. An invitation to coach at their teenage hockey summer camp provides the two of them a second chance at mending their relationship, which leads to more…
Childhood friends falling in love…can I squeal any harder? It's probably one of my favorite tropes in romance, and its even better from best friends to lovers! Two people who understand each other well, grew up with one another, they've seen each other through good and bad, with their own traditions and inner jokes and no space for instalove. The attraction between Wes and Jamie is adorable, clumsy and awkward as they rediscover one another, and their attraction to one another grows.
Wes and Jamie have very different personality, with Wes being the more serious one having come from a wealthy and distant family, and his intense focus to eventually play professional hockey. Jamie on the other hand is the easy going one, with a large, warm and supportive family – which is a good thing, seeing that he is the one who undergoes the most change in term of sexual attraction, therefore he had to be more accepting with how his relationship with Wes was changing – unlike Wes, he has his doubts as well about going pro, it isn't that his love for hockey isn't there, but he admits it isn't as intense as Wes' and he is looking for other alternatives for his future career.
Wes was more or less out of the closet at this point of the story:
"As the only gay hockey player I know, I walk a fine line. I mean, if someone brings it up, I'm not gonna clam up and scurry into the closet, but I don't volunteer the information, either […] my sexual orientation is probably the worst-kept secret on this team."
For Jamie things were a little more complicating, where had still identified with himself as a straight man and has to come to terms with being bisexual.
"I'm…bisexual.

Yep, I know, not exactly a mind-blowing M. Night Shyamalan plot twist over here, but it's the first time I've allowed the word to take root in my consciousness. I'm bisexual, and its not just a physical connection I feel with Wes.

I can also see myself in a relationship with him. I can see myself being happy with him and never feeling like things were lacking"
And he does this without too much angst or drama, and it was wonderful that he had the support of his absolutely wonderful family.
These two guys are absolutely sweet and the sexual tension is definitely there at every turn. It's quite easy to fall in love with the both of them, and want to give them both a big hug for everything they're going through.
The angst scale on this book is pretty low; the drama is equally as low. Although we're used to reading books  where emotions and angst run high, and characters make drastic moves and decisions, it wasn't necessary for this story. I love how the couple naturally came together, overcame the issues between them in their own manner and eventually worked towards their sweet Happily Ever After. Slow, sweet yet with the right amount of sexual tension.
Overall, I love this book. The writing did not feel as though there were two authors and was quite seamless. While some of the characters exchanges could seem a little juvenile, but do remember these boys are only seniors in college, so they would differ from those who are used to reading romance books with more matured male characters.
Would I recommend it…YES. Especially for those who has never read M/M relationship books and would like to try, this would be a pretty good place to start. 
Let's chat! Have you read this book? It's been awhile since its been released, so I'm sure it has quite a few readers. If you've not, any interest in wandering into M/M romance? If you are, would you pick this up? 
The image I used for my banner was taken from feelgrafix, uploaded by Rami Duek.