Hey everyone! It's been awhile…I'm still on a hiatus but I decided to just post a review of some manga series I've completed/caught up with. This is also so my writing skills won't get too rusty while I'm on break 😀
I'll only be doing mini reviews on each of these series, since I'm actually reviewing them as a whole (or up till where I've read). Another reason would be I won't wanna be giving too much story away.
Shokugeki no Souma (食戟のソーマ) – Yūto Tsukuda & Shun Saeki
I've mentioned this series before in a Top Ten Tuesday meme, where my topic was regarding top ten sports manga to read. I've finally caught more or less caught up…in terms of numbers of volumes I've read along with the chapters weekly which have not been compiled into a tankoubon (book form) yet, it'd be around vol. 20? But just for accuracy lets just put it down as 18, since thats how many volumes which has been compiled at the moment. So I won't go into the description of the story.
What Worked For Me:
It's about FOOD! Who hates food? Especially when its presented so deliciously and in such a dramatic fashion?
Kids who are just so passionate about cooking – all those inspirational and motivational lines. There are days I just need those, and hence I read these types of stories.
What Didn't Work For Me:
Formulaic – its been tried and done…after reading over 100+ chapters of them challenging each other to a food dual, even with growth and improvement, it gets tiresome…and a little boring.
Too many characters – they just keep adding em on…its gotten to the point I don't think I'm able to remember their names, I'm just managing with the main cast at the moment. I can't even remember the main villain's name which was just introduced…
Overall:
I'll admit I am tired of it after having gone through so many chapters in such a large dose; but I think I'll continue reading it till the very bitter end. I do wanna know how they'll all eventually turn out. Plus the food…oh food…its so delicious, it does make me wanna go out and have good food.
Donten ni Warau (曇天に笑う) – Karakara-Kemuri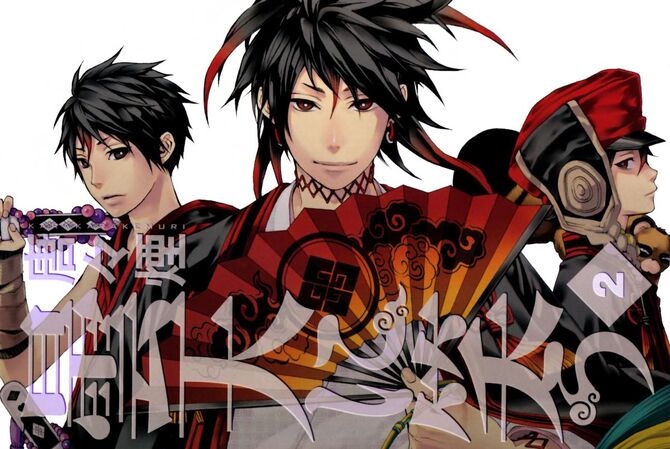 This is my first exposure to this mangaka, did not even know the series was made into an anime. I just picked it up on a whim because I liked the cover art on the first volume. Although the image here is of the second volume.
General Plot:
In the eleventh year of the Meiji era carrying swords was forbidden by the government and those known as samurai were slowly fading away. However there were plenty that didn't like those changes taking place in Japan and inevitably the crime rates increased. Japan's only resolve was an inescapable lake prison. While the prison had no other way to access it but only through water, the 3 boys of the Kumo family were assigned to transport the criminals to their new "home". Although… is that the only thing they were doing…
– Taken from Baka-Updates
What Worked For Me:
Orochi, Meiji-era, shikigami, shinobi, supernatural beings – OMG I AM THERE! I love the era its set in, the history and the supernatural mix of the story is great!
The characters – Love the three Kumo brothers! Especially Tenka, the oldest! I really love happy go lucky characters who are ridiculously strong, and doesn't take themselves too seriously…I love his passion and how he just wants to laugh everyday, and to want everyone to be happy. They're the good type of people.
The art – thats what I first fell for anyways…sometimes there is a gap between whats presented on the cover and whats on the pages, but not this series.
What Didn't Work For Me:
It needs more chapters – this is one of those series that really needs to have more chapters and more volume…its just not long enough.
Details – It lacks details, in character progression, story progression, it just needs more! There are parts of the story which I feel could have been flushed out more…and there were parts where more explanation was needed. Everything felt too rushed, that I felt things (plots, strategy, etc.) were missing.
Overall:
Despite all the bad…in parts I would find absolutely lacking…I managed to finish all 6 volume. I really wanted it to be good. I won't be watching the anime, I think I'd be frustrated by the lack of proper story progression especially when there are holes and gaps which needs filling. Some parts are just too shallow, the ending came too quickly…I believe there is a second part to this series titled, Donten ni Warau Gaiden (曇天に笑う外伝), which covers what wasn't told in the main story; and Rengoku ni Warau (煉獄に笑う), which is the prequel. I might have to check those two out, I'm partially doing this because of the art…I guess I'm not ready to give up on this mangaka.
Those are my quick and mini reviews. Will be back soon, after I've taken more time off…I'm still not ready to get back into blogging yet. Please do hang in there…I will be back 😀
Would like to give credit to the photographer who took the photo of the image I used in my banner – Patrick Tomasso.