Reviving this! There have been quite a few book covers which have caught my eyes, and I am totally excited to share them with you!
I don't normally do themes for my covers…but because I get drawn to book cover designs that I started this segment.
Am absolutely in love with the UK version of Laini Taylor's Strange the Dreamer! This is just so absolutely GORGEOUS! While I've not finished the Daughter of Smoke and Bone trilogy, I was so tempted to pick this one up just based on the cover! Am thinking I should anyways because it is Laini Taylor and I did have a good experience with the first book of DoSnB, will need to finish the second and third book in the trilogy. Love the gold details on the bright night blue, with what looks like stars, constellations and clouds behind the art and text. I also love the typography design. The color really catches the eye, and would look amazing in a bookshelf!
Maybe I'm all about stars and skies, but here's another pretty cover. How beautiful is Neil Gaiman's Norse Mythology! Simple background and gorgeous illustration of Thor's hammer and a classy typography. I would love a hardcover version of this cover, but at the moment, I'm not really allowed to purchase and physical copies.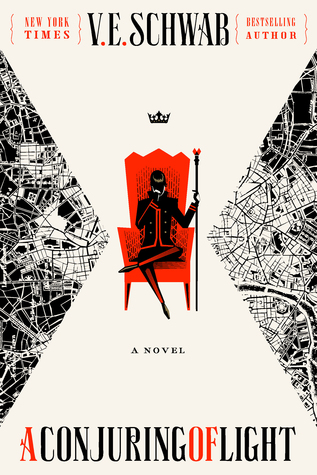 I know there is a massive Shade of Magic hype going on at the moment, aside from the amazing story (I've not read it but have only heard amazing things about this series) but just based on this cover, can anyone blame them? V.E Schwab's A Conjuring of Light's cover design just absolutely GORGEOUS! It definitely tugged me to purchase a copy…when I first saw the cover! It gives a sort of retro feel with the black, cream and red color scheme; then there is also an edge with the vector art with gorgeous subtle line details. Although I have to say my favorite part is probably the vector of the map on either side of the centre illustration. The typography and placement is also perfect, like some sorta old school poster. LOVE THIS!
This is the first time I've heard of this author, and this series, but the cover caught my eyes…with the detailed embroidery as a design. The Wish Granter by C.J. Redwine, was inspired by the fairy tale, Rumpelstiltskin. Although somehow I felt with the blood on the needle it feels a little closer to Sleeping Beauty, with the whole finger pricking on the spindle deal? But still this was a very pretty cover design.
Maybe there is a mini theme going on here with stars! Gorgeous cover design for Caraval by Stephanie Garber. I actually like both version of this book, but the simplicity and vector illustration of the UK version called out to me more, when I saw the two covers side by side. This version looked a little more retro. Also love the typography design, with the alphabets 'RAV' forming something like an eye, and the teardrop hanging off the tail of the 'R', love the subtle detail. Not sure if anyone else saw that detail or if I'm imagining it. But I love this!
These are my picks for my 5 cover for the month! It's been awhile since I've done this, and I forgot how much fun it is looking at gorgeously designed covers! Please enjoy the designs and do tell me what you think of my picks! Feel free in recommending any covers you think I would like! Or if any of these covers have encouraged you to pick up the book! Would love to hear from you!