I love Jamie and Wes in Him, and when it was a duology, OF COURSE I had to read Us! I'd read the book awhile back, so this review is pretty late. Should have done it sooner to put out a full-length review, but because it's been something, gonna do a mini review instead. At least with reviews…it's never too late to put one out!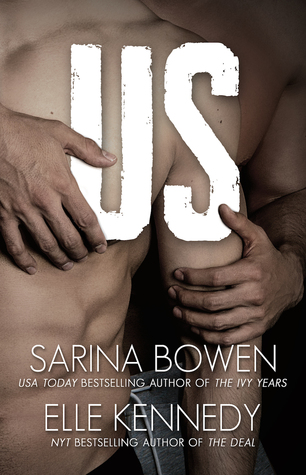 Genre: M/M Romance, New Adult, Contemporary Romance
Published Date: March 8th 2016
Publisher: Rennie Road Books
Synopsis: Can your favorite hockey players finish their first season together undefeated?

Five months in, NHL forward Ryan Wesley is having a record-breaking rookie season. He's living his dream of playing pro hockey and coming home every night to the man he loves—Jamie Canning, his longtime best friend turned boyfriend. There's just one problem: the most important relationship of his life is one he needs to keep hidden, or else face a media storm that will eclipse his success on the ice.
Jamie loves Wes. He really, truly does. But hiding sucks. It's not the life Jamie envisioned for himself, and the strain of keeping their secret is taking its toll. It doesn't help that his new job isn't going as smoothly as he'd hoped, but he knows he can power through it as long as he has Wes. At least apartment 10B is their retreat, where they can always be themselves.
Or can they?
When Wes's nosiest teammate moves in upstairs, the threads of their carefully woven lie begin to unravel. With the outside world determined to take its best shot at them, can Wes and Jamie develop major-league relationship skills on the fly?
Warning: contains sexual situations, a vibrating chair, long-distance sexytimes and proof that hockey players look hot in any shade of green.
WHAT I LOVED:
Jamie and Wes! I loved them so much in Him, and they didn't fail me in Us. They had so much chemistry together!
The development in their relationship. We always wondered what happened after the 'Happily Ever After' in romances, here we have it! I love when characters grown, so I appreciate getting to see what happens after the couple gets together. It was refreshing for me.
BLAKE! OMG…he is just absolutely an adorable new addition to the story. While he annoyed the hell outta me for getting in the way of our adorable couple; he showed his worth in the second half of the book, where he proved he was definitely there to stay!
The alternating voices between Jamie and Wes. I like the very distinct voices of both characters, our ability as readers to see from their individual point of views and getting into their heads.
Sexytime…'enuf said!
WHAT DIDN'T WORK:
Jamie suddenly spiraling out…suddenly there was no connection between my two favorites! I know we need issues to make it a story worth reading, but there are times where Jamie didn't seem like Jamie.
A certain medical emergency…this theme had already been used in the first book, but to use it AGAIN in the second book, seemed a little too convenient for me. Not to spoil it for anyone who hasn't read it, but I wished that they used another type of issue to bring up the climax of the story.
Miscommunication. I'm not the best person when it comes to communication, but I find when it in stories…where for most part of the book the characters CAN'T SEEM TO COMMUNICATE…its frustrating. I get that Wes is traveling and both of them work on different schedules, communication is difficult, but it just seemed a little too cliche, since wasn't communication also the issue in the first book, although for a completely different reason. This didn't work for me.
OVERALL
I still enjoyed the book, hence my high ratings of 4-stars on Goodreads; but that is mostly because of the characters. They all had very good chemistry with each other, their conversations and their personalities are all so realistic, which made them quite 3-dimensional. Sarina and Elle, created amazing characters that just stays with you…and thats what I enjoyed from this read.
Would I recommend the book? If you like to read about what happen next after the HEA, yes; and if you like to watch development and couples growing, yes. But if you have no tolerance for miscommunication, definitely, no because that's really what's going on in this book; or, if you cannot manage a character who acts and speaks like a kid in the body of a massive athletic adult…prolly not, although he does get better in the second half.
Would love to hear what you thought of the book! Have you read it? Would you read it? If you did, which did you prefer: Him/Us or both, equally?
The photograph used in the banner was by Filip Mroz, taken from Unsplash.